2016 Flex Gym Biggest Loser "Winner" Female
Brittany Webb
Starting Weight: Jan. 2016 – 275.6lbs
Ending Weight: March 2016 – 246.2lbs
Total Weight Lost – 29.4lbs
Brittany Webb is our 2016 woman's biggest loser. She began training at Flex in Sept of 2015 under the guidance of IFBB Pro, Mercedes Bazemore.  Brittany says she has been overweight her whole life and it "was time for a change".  She lost a few pounds and gained overall fitness but then came the Biggest Loser announcement. Something clicked and she got serious about her training and her diet – Mercedes noted the change in attitude and the race was on!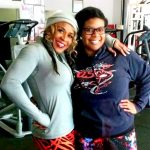 Brittany followed a basic low carb and high protein diet. No processed food, low sodium – and of course her favorite chips and bread were off limits.  She admits to a lack of knowledge about nutrition but now appreciates the "Eat to Live, not Live to Eat" philosophy.  Hiring a personal trainer was important for her accountability and knowledge.
10 Weeks and 29.4 lbs later, Brittany is a new and smaller version of herself. Her winning combination of 3 strength training workouts per week and 30 minutes of walking per day gave her the victory. However, she is not done yet. She and Mercedes have cooked up another 10 week challenge for Brittany. We are confident that this gal can achieve anything she sets out to do!
2016 Flex Gym Biggest Loser "Winner" Male
Chris Taylor
Starting Weight: Jan. 2016 – 185.2lbs
Ending Weight: March 2016 – 161.4lbs
Total Weight Lost – 23.8lbs
Can you say "TWO PEAT"?? Congratulations (again) to Chris Taylor – winner of the 2016 Men's Biggest Loser Contest.
Despite being in the lightest men's category, Chris dropped 23.8lbs over the 10 week period for a very respectable 12.85%.
He was inspired this year by a different book and diet plan "Eat to Live" by Joel Fuhram. For this diet, dairy and animal products are off limits for 6 weeks. Vegetables, beans and fresh fruit are emphasized. Meat is reintroduced after a 6 week period.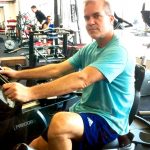 Chris was a championship wrestler in high school and college so is well versed in dieting! After the 2015 contest, he gradually gained back 10 of the pounds he had lost. This year he not only lost those 10 lbs, but an additional 13.8 lbs also disappeared.
His disciplined strength workouts, cardio sessions and diet plans have given him super results. Hats off to our TWO PEAT winner!